Publish and Benny Gold are proud to present a collaborative drop for Spring/Summer 2014. Highlighted throughout the release is Gold's signature Fog Camo pattern and placed strategically by Publish on the likes of the water-resistant Van Ness 3/4 length hooded mountain jacket, these two brands fit perfectly together! To go along with that you have brushed twill shorts, jogger-style Guerrero pants, and Valencia bucket hats. Make sure you get your hands on some gear because it dropped today at select retailers! Hit the jump for more!
Read more...
You didn't forget about the Jordan 10 "Venom Green", did you? The sneakers are the next up Air Jordan 10 on the schedule and actually look a little different than that early rendering that was first presented. The final retail version of the shoe features an icy touch across the bottoms, where as the aforementioned catalog shots had it looking more solid. See the sole in detail with us after the break, complete with those career accomplishments of MJ's listed, and tell us if you'll be grabbing a pair on their March 22nd release date. – Box Kev
Read more...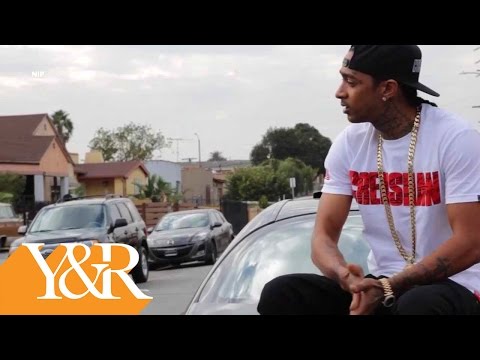 Nipsey Hussle give us his own take on how important Crenshaw is to LA, why he sold "Crenshaw" for $100, and the significance of his collaboration with Young & Reckless. Stay tuned for this collaboration because they have put together a range of t-shirts, jackets, crew necks, hoodies, and headwear coming soon just for you!
Above is the lookbook video for the EXBTN Spring Exhibit 2014! "At EXBTN, creating is our passion, lifeblood and dream. We don't give a f*ck about anything else. We sacrifice everything to live our dream and we encourage you to do the same. This is your chance. You are an exhibition of all that is you. Follow your dream and honor it by giving it everything you have – SHOW, DON'T TELL." View the all new gallery HERE.
The Jordan Future will release on March 15th, not on the March 1st date that was originally connected with the sneakers. First up for the silhouette, which blends the heritage of the Air Jordan 11 with what looks like a little bit of NSW flavor, are the "Infrared" and "Glow in the Dark" colorways. Do you see this model as representative of a promising new direction for the off-court/non-retro models from Jordan Brand? Let us know down in the comments after you browse the rest of the official imagery for the upcoming Jordan Future. – Box Kev
Read more...
PacSun and Black Scale have teamed up once again to photograph Black Scale's Spring Lookbook. Shot in Los Angeles, the resulting lookbook below highlights each of PacSun's Black Scale pieces which is a collection that features both long- and short-sleeve graphic tees, as well as hats. Look for the full drop soon at a PacSun location near you and hit the jump for more.
Read more...
The Nike Air Tech Challenge line is one that's getting all sorts of love from the Swoosh in 2014. There's the return of OGs like the Nike Air Tech Challenge II, there is the porting over of prints from that era onto new silhouettes like the Nike Zoom Vapor Tour 9, and then there is the borrowing of the line's prints for retro silhouettes. The Nike Air Foamposite One here of course falls into that last category what with its Air Tech Challenge IV inspired build. Continue reading to see more of the sneakers, launching on Marsh 1st, and grab your pair a little early on eBay. – Box Kev
Read more...
Stussy has released the Spring/Summer 2014 drop for all you women out there. The line is full colorful prints, patterns and references from the past decades. As you can see it it mostly from the '80s and early '90s with highlights like the remixed "Tom Tom" and "Chongo" prints along with skateboarding graphics and Stussy's own script logo across raglan tees, tanks, hoodies, rompers and more. Stussy's 2014 spring collection for women is now available online and at all Stussy chapters. Hit the jump for more!
Read more...
Not much is surprising about Foamposites these days, but the recent re-emergence of the "Shooting Stars" PE is enough to get our attention. While a release hasn't been confirmed, it wouldn't be as much of a surprise given the recent track record of out-of-the-box Foamposite colorways. Add in the fact that these production samples apparently have a product style code, and there's even more reason to lean toward a confirmed release somewhere down the line. We'll let you know for sure if these do intend on releasing, so in the meantime, enjoy this latest set of imagery and give us your opinion on a potential release of these once Penny Hardaway exclusives. – Box Kev
Read more...
Check out the newest 'WITBUM' aka What's in The Based Update's Mailbox featuring a deeper look at Popular Demand Clothing's 2014 Spring 1 Line via The Based Update by clicking HERE or the image above! This time around the highlight for this line is their 'Start Fires' collection which represents the idea that you can create something so compelling that it spreads like a wildfire. Make sure you pick up your gear and stay tuned for Spring 2!
The black, white, and blue Nike Air Mission Retro will release on March 1st, 2014. Way back in the summer of last year, Nike announced that the Nike Air Mission would be staging a comeback for 2014. Then, later in 2013, we started to see pictures of the first two colorways that were set to release, one of which was this pair featuring an all black upper with hits of blue an white in various spots on the shoe that served as accents. Now it seems that this pair will finally see a release at the top on next month. Are you excited by the news? Are you going to try and pick up a pair? Let us know in the comments and hit up Oneness on release day to pick up your pair. – Box Kev